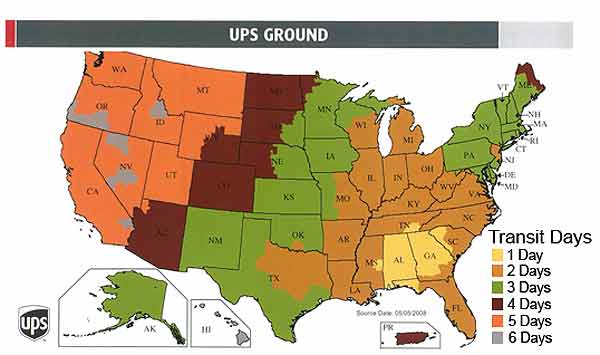 ABOUT US: We take great pride in our commitment to quality and customer satisfaction at NeedDecals.com.

We are a small, family owned business and employ only the finest individuals. They are trained with the necessary expertise that you would expect from a 38 year old company. Our management and staff are dedicated to providing you with the highest level of service that you would expect from an industry leader.

We remain small enough to give you the best possible service and large enough to supply the demanding needs of our largest clients.

It is our goal to build a long-term relationship with YOU … our customer. We do this by giving you great service and excellent products at very reasonable prices.

Thank You for shopping with us.

Sincerely,

NeedDecals.com

Management and Staff

SHIPPING Your products will ship from Alabama. The above map will give you an idea of travel time if you select UPS Ground shipping. We also offer UPS Next Day Air, UPS 2-Day Air, 3 Day Select, UPS Worldwide, UPS Canada, Priority Mail International (Canada). First Class Mail and Priority Mail are also available inside the U.S.

SHIPPING FEES: will be shown at the end of the ordering the order process. You will have a chance to review these fees before you complete your order and can accept or reject them. Orders over 150 pounds shipping weight will not calculate automatically so we will contact you before processing your order.


SHIPPING NOTICE - If you want guaranteed delivery, PLEASE request UPS or Priority Mail shipping when placing your order with us or any other business. Your order is insured and delivery is guaranteed. We cannot be responsible for orders shipped via First Class Mail. Note: We reserve the right to select the shipping method at the time of shipment that we feel is in your best interest.

We need your feedback. How can we better serve you, our valued customer? If you don't find what you are looking for please let us know. Drop us an email with any suggestions you may have. Thank you for shopping with us.


Contact:
NeedDecals.com - P.O. Box 2350 - Selma, AL 36702-2350
Phone 334-872-0226 - Fax 334-874-3906 or
send email to:
doug@needdecals.com

NO HASSLES GUARANTEE!!

We promise that doing business with us will never be a hassle. If at any time, for any reason, you are not completely happy with your purchase of any of our stock items, we will cheerfully and promptly issue your choice of a refund, exchange, or credit based on the purchase price of the merchandise. No Excuses. No Hassles. Simply return the merchandise in original condition.

Custom printed items require approval of a proof which we will email to you. Purchases of these custom printed items are final.

RETURNS:

Please call our Customer Service Department at 877-866-1515 within 15 days of shipment for return authorization so that your account can be properly credited. No hassles guarantee!

PRODUCT WARRANTY:

Only such warranties as are made by the manufacturer of the goods or raw materials used to manufacture the goods are available to the Buyer. Seller makes no warranty of any kind, whatsoever, express or implied, and any implied warranty of merchantability or fitness for a particular purpose is hereby disclaimed by the seller. Seller shall not be liable for any consequential damages, loss or expense arising from the use of or the inability to use the goods for any purpose whatsoever.